January 29, 2020
Drug Abuse Prevention And Addiction Counselling Skills
NEWS AND PICTURE CREDIT: DAIJIWORLD.COM.
Mangaluru, Jan 18: Department of Clinical Psychology, St Agnes College, Centre for Post Graduate Studies and Research with Ecolink Culture and TELOCA conducted a seminar on 'Drug Abuse Prevention And Addiction Counselling Skills' for teachers and lecturers of high school, PUC, UG and PG Colleges of Mangaluru in St. Agnes college, PG Auditorium on the Saturday, January 18 as one of the many benefitting programs planned as a part of the Centenary celebration.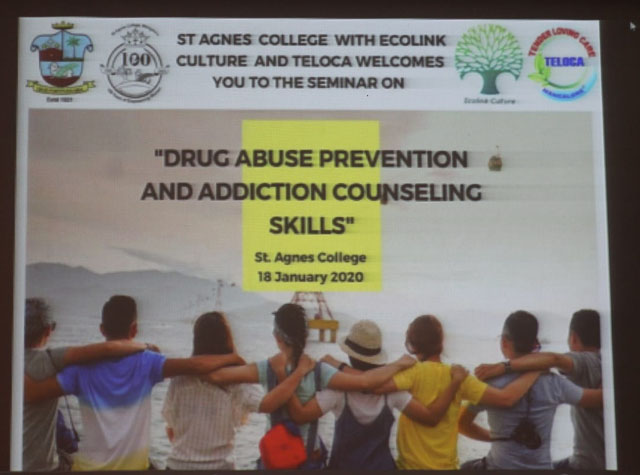 The seminar started at the PG Auditorium. Dr Kavyashree K B, assistant professor and HoD of Clinical Psychology welcomed the dignitaries. Sr Dr M Jeswina A C, principal of the college welcomed the audience and briefed them about the purpose and occasion of the gathering. She also spoke about the rising concern of substance abuse among youth and the need for awareness and education. Following this, the platform was handed over to the speakers. The speakers for the day were Dr Thomas Scaria, addiction counsellor and director of Ecolink. Shruti Rajan Kappil, assistant professor of clinical psychology and Clara D'Cunha, director, Tender Loving Care.
The seminar comprised of enriching sessions from basic understanding of drugs to addiction and rehabilitation. Dr. Thomas Scaria, Director of Ecolink spoke on 'Basic understanding of Drugs and Addiction' where in addressed several issues such as Prevalence of drugs in the city, its origins and source of derivation, classifications of drugs and its effects, and the addiction cycle. He also spoke on the topic 'Teacher as an addiction counsellor' wherein he differentiated between the role of a teacher and counsellor, focusing on the vital qualities a counsellor must possess. Furthermore, Dr Thomas defined counselling as 'A skilled Dialogue with a Purpose', in which two way communication is a need. Few of the many qualities he spoke about included empathy, confidentiality, non-judgemental attitude, appropriate modelling among many more, stating that these are a requisite for a good counsellor.
Shruti Rajan Kappil, professor of Clinical Psychology spoke on 'Early understanding and intervention', which consisted of sub topics such as signs and symptoms of use and addiction, intervention and referral points. A practical outlook based on knowledge, gained from experience and observation was put forth with real life examples and clinical cases. Detailed information on different options for rehabilitation were provided along with contact details.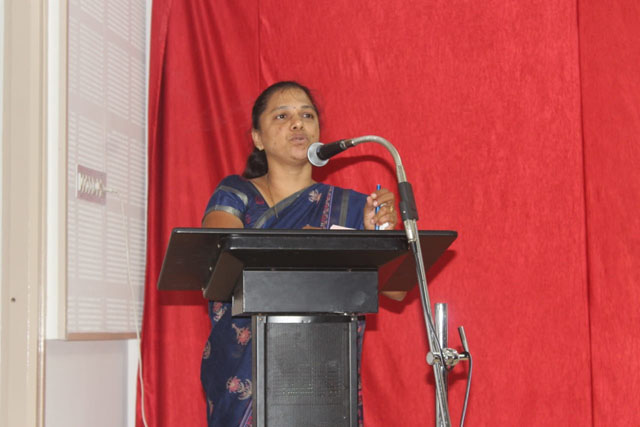 Clara D'Cunha, director, TELOCA, gave a brief introduction to TELOCA recovery programs and other service providers. She spoke about the need of reducing stigma associated with addiction and treating patients with kindness and respect. She talked about relapse prevention and importance of giving due attention to women de-addiction centres as well. This was followed by a talk, introducing Narcotics Anonymous and testimony by one of its members. He enlightened the audience through this words as he went onto explain the need for acceptance and patience in caregivers, when faced with someone who has addiction. Guru also added, that Narcotics Anonymous gave him an opportunity and forum to improve and overcome his addiction.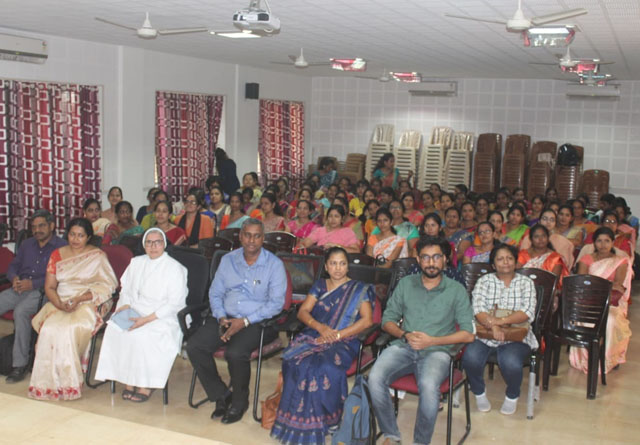 The interaction with the survivor, gave us a deeper insight on the struggle and success story of combating addiction. It also helped us understand the concerns and thought process of an individual suffering from addiction. Moreover, it provided us with an overall understanding of how to deal with individuals suffering from addiction and are in dire need of guidance. The audience was also provided with the opportunity to ask questions that aided in clarifying doubts.
The vote of thanks was delivered by Anne, assistant professor, department of Clinical Psychology which was followed by the national anthem. The knowledge and awareness spread through the seminar was very well appreciated and acknowledged by the participants. The seminar was carried on smoothly without any interruption and was a great success. It was a very enriching experience for the organising committee to be able to organize a seminar on an issue that requires our immediate attention. We hope to have increased the audience's horizon and understanding of Drug Abuse, Prevention, Addiction and Rehabilitation.